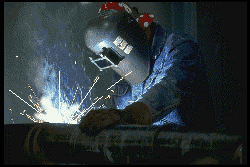 Commercial- Industrial
Shop or Job Site Service
Cree's Welding provides quality welding, fabrication, installation and repair services.
National Board "R" authorization for shop and field repairs of A.S.M.E. Section I Power Boilers, A.S.M.E. Section IV Heating Boilers, A.S.M.E. B31.1 Power Piping and A.S.M.E. Section VIII Division 1 Pressure Vessels.
All repairs are performed in strict accordance to the National Board and A.S.M.E. Codes by implementing our Quality Control System and having contracted Hartford Steam Boiler Inspection and Insurance Company as our authorized Inspection Agency.